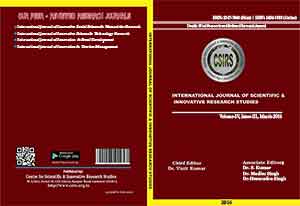 Chief Editor
Dr. Vinit Kumar


Director, Centre for Scientific & Innovative Research Studies, Lucknow-India.

Associate Editor
Dr. S. Kumar,


University of Texas, Richardson-Texas


Dr. Madhu Singh


Asst. Professor, Dept. of Rog Nidana, Government Ayurvedic College, Jhansi-Uttar Pradesh.


Dr. Hemendra Singh,


Asst. Professor, Dr. B.R.A. Rajkiya Mahavidyalaya, Kannauj.



ISSN
2347-7660 (Print Version)
Frequency
monthly
Nature
Print and Online
Submission E-mail
director@csirs.org.in
Language of Publication
English / Hindi / Sanskrit
International Journal of Scientific & Innovative Research Studies is an international journal that effectively bridges the gap between academics, policy makers, and practitioners and links the various economic development communities. The journal focuses on contemporary research publication philosophies including blind strict peer refereeing, timely review, regular publication and broader coverage of the field. The editorial board is represented by the world's reputed and experienced academicians and researchers from various fields. The blind peer review and editorial policies are largely contributed by the CSIRS. The journal is completely open access which has opened the doors for the millions of international readers and academicians to keep in touch with the latest research findings in the various fields. International Journal of Scientific & Innovative Research Studies specializes in quantitative & qualitative development policy analysis. The target readers of the journal include economists and other social scientists in government, business, international agencies, universities, and research institutions. The journal strives to provide the most current and best research in the various fields.

E-Publication First
E-Publication First is a feature offered through our journal platform. It allows PDF version of manuscripts that have been peer reviewed and accepted, to be hosted online prior to their inclusion in a final printed journal. Readers can freely access or cite the article. The accepted papers are published online within one week after the completion of all necessary publishing steps.

DOI Number (Is in Under process)
Each paper published in International Journal of Scientific & Innovative Research Studies is assigned a DOI number, which appears beneath the author's affiliation in the published paper. Click HERE to know what is DOI (Digital Object Identifier)? Click HERE to retrieve Digital Object Identifiers (DOIs) for journal articles, books, and chapters.

Abstracted / Indexed in
Cross Ref, Cross Check, Cabell's, Ulrich's, Griffith Research Online, Google Scholar, Education.edu, Informatics, Universe Digital Library, Standard Periodical Directory,Gale, Open J-Gate, EBSCO, Journal Seek, DRJI, ProQuest, BASE, InfoBase Index, OCLC, IBSS, Academic Journal Databases, Scientific Index.


Editorial Board
S. Victor Babu Professor, Deptt. of History, B. B. Ambedkar University, Lucknow,
Dr. Chitwan Varma Associate Professor, JNPG, college, Lucknow,
Prof. Alpana Srivastva Amity Business School, Amity University, Lucknow,,
Prof. Ashutosh Sinha Deptt. of Rural Management, Dr. R.M.L. University, Faizabad.,
Dr. B. N. Singh Ex- Director, Rajarshi Tandon Open University, Allahabad,
Satish Kumar Information Scientist & Head, Knowledge Resource Centre, AREAS-Uttarakhand.,
Dr. Yogesh Narayan Singh Asst. Professor, N.N. PG College, Nawabganj, Gonda-U.P.,
Dr. Usha Devi Associate Professor, Dept. History, V.H.P.G. College, Lucknow,
Shruti Kirti Rastogi Assistant Professor, Deptt. of Education Babasaheb Bhimrao Ambedkar ( A Central) University, Lucknow- India,
Dr. Anil Saxena Associate Professor, K.R. ( P.G.) College, Mathura,
Dr.Anil Kumar Saini Assistant Professor, Dept. of Socology, Govt. Degree College Pithoragad,
Dr. Richa Mishra Assistant Professor, Lucknow Public College of Professional studie -Lucknow,
Jai Laxmi Sharma Assistant Professor, Department of Commerce, Amarnath Girls Degree College, Mathura-Uttar Pradesh,
Dr. Arvind K. Tripathi Associate Professor, DSN College Unnao,
Dr. Vinod K. Srivastava Associate Professor, Deptt. of Rural Management, Dr. R.M.L. University, Faizabad,
Dr. Satish K. Singh Associate Professor, DSN College Unnao,
Dr. Alka Sinha Asst. Professor, Isabella Thoburn College, Lucknow,
Santosh Kumar Faculty of Operations & Systems, IBS Hyderabad, Andhra Pradesh, India ,
Dr. Shipra Verma Asst. Professor, Dr. B.R.A. Rajkiya Mahavidyalaya, Kannauj,
Dr. Hemendra Singh Asst. Professor, Dr. B.R.A. Rajkiya Mahavidyalaya, Kannauj,
Dr. Harshendra Pratap Singh Asst. Professor, Govt. Degree College, Unnao,
Dr. Nutan Singh Associate Professor, Y.D. College, Lakhimpur Khiri, Uttar Pradesh,
Dr. Ripu Sudan Singh Associate Professor, Deptt. of Political Science, Babasaheb Bhimrao Ambedkar University, Lucknow,
Dr. Piyush Prakash Dayanand Bachrawah, P.G. College, Raebareli (U.P.),
Dr. Mahjabi Khan Associate Professor, DSN College Unnao ( U.P.),
Dr. Narendra Singh Dhariyal Asst. Professor, L.S.M. Government College,Pithoragarh,
Dr. Vinay Chandra Asst. Professor, L.S.M. Government College, Pithoragarh ( U.K.),
Dr. R. S. Nagmani Asst. professor, Gaya College Gaya, Bihar,
Dr. Shnaoli Chakraborty Associate Professor, Golapbag University of Burdwan, West Bengal.,
Dr. Vinay Chandra Asst. Professor, L.S.M. Government College, Pithoragarh ( U.K.),
Dr. Jitendra Kumar Pandey Asst. Professor & Head, Smt. Indira Gandhi Government P.G. College, Mirzapur,
Dr. Alka Singh Department of Sociology, BBA University, Lucknow, Uttar Pradesh,
Dr. Neeta Associate Professor, Nari Siksha Niketan P.G. College , Lucknow,
Dr. Amit Kumar Srivastava Associate Professor, Department of Physics, D.A.V. College, Kanpur (U.P.), India,,
Dr. Rajiv Kumar Nagar Assistance Professor (Guest Faculty) Department of Sociology and Social Work H.N.B.Garhwal (Central) University Srinagar Garhwal, Uttarakhand -246174,
Dr. Bindu Associate professor, History Department, Shashi Bhushan Degree college Lucknow,